Kaplan Medical Center improved the service to its patients with Qure
"Thanks to using Qure, I now know where to focus my attention in order to prevent future database performance problems and can direct my energies to producing reports, performing data analysis and queries, and carrying out long-term projects. Ultimately this means better service for our clients because the development team now has more time to care for their needs and sooner."
- Database's DBA, Kaplan Medical Center
Clalit Health Services is the largest healthcare maintenance organization (HMO) in Israel, with 54 percent market segment share. It is the second largest HMO in the world, with 14 hospitals and more than 1,300 clinics and pharmacies across the country. Clalit has a large IT environment consisting of 33,000 employees, 3,000 servers and 2,500 wide area network (WAN) communication lines. It has several hundred applications and Microsoft SQL Servers distributed in its data centers and hospitals.
Kaplan hospital in one of Clalit's hospitals. Each year Kaplan Medical Center attends to thousands of surgeries, births and ER admissions for the over 450,000 citizens it serves. The hospital's patient data is stored in the Patient Medical History database, which acts as the hospital's main information system for throughout the patient's hospitalization. The OLTP database's server is a critical real-time application that is accessed by the hospital's approximately 700 medical and paramedical staff. The database is 60 GB in size and is responsible for processing hundreds of transactions per second.
Prior to using Qure, the hospital encountered ongoing performance issues in the daily operation of the database and using its querying functions. Problems areas included slow reaction times and frequent system glitches; staff dissatisfaction resulting from time spent dealing with system performance issues; and excessive time spent by the database's DBAs troubleshooting performance issues and causing a bottleneck for the work of the entire development team.
To address these issues the hospital had considered either purchasing an additional server, or hiring an expert DBA to join the team, both of which would considerably increase the hospitals costs. According to Mr. Rabia Mansour, Clalit Health Services' Chief Architect Officer, Qure's benefit comes from finding all of a database's problems, big or small, in a matter of days. The same process would require weeks or months of a DBA's time.
Mr. Mansour has emphasized that performance issues are the most critical challenge they face. Huge resources are being spent on performance issues in human resources, software and hardware. In the last few years, several million dollars were invested in efforts to keep performance levels up to standard.
"Many organizations are consistently growing by adding new business processes, projects and databases, on top of the natural increase in the number of users and data. However, in many cases the addition to human resources and database administrators is not correlated. In my opinion, high-quality automated tools help IT in general and DBAs in this context manage such challenges." - Mr. Rabia Mansour, Chief Architect Officer, Clalit Health Services
"Qure was instrumental in helping us to uncover the root cause of our database performance problems. By implementing Qure's recommendations, we have refined our internal processes and significantly improved the performance and reliability of our patient database."
-Database's DBA, Kaplan Medical Center
Following detailed analysis, Qure produced over 800 recommendations for the hospital's Patient Medical History database. Of these, the hospital chose to focus on the five most pressing and resource consuming queries for immediate implementation. Displayed on the top-right side of the page are the results Kaplan Medical Center achieved after implementing Qure's recommendations, as measured in the production environment.
The following improvements were noted: an 83% decrease in CPU consumption from 15,158 to 2,611; a 45% reduction in query duration from 69,985 ms to 38,638 ms; and a 79% decrease in the number of logical reads from 974,220 to 201,879. As a result of these improvements, the hospital IT department has since experienced significantly lower call volumes regarding database malfunctions, and markedly reduced system glitches.
For more information, please contact Mr. Rabia Mansour: rabehma(at)clalit(dot)org(dot)il
"Follow Up" Query Improvement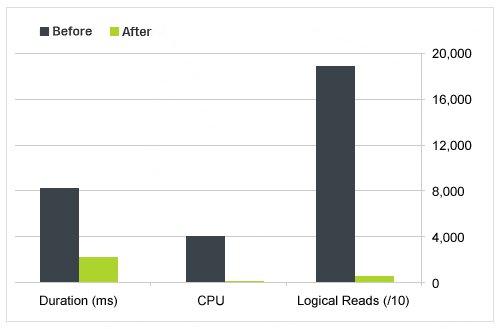 Top Queries Logical Reads Improvement