50% overall database performance improvement at MediaMind
MediaMind is a global provider of digital advertising solutions that optimize the use of media, creative and data for enhanced campaign performance.
MediaMind is a fast growing company and is constantly improving its IT infrastructures to accommodate fast growth while maintaining response times and service levels. The company has invested considerable resources, including the purchase of an expensive APM suite and tools in order to improve database performance.
MediaMind has recruited a highly skilled, expert DBA team. Qure automatically analyzed a backup of the main production server and generated dozens of recommendations. Most of the recommendations were implemented on the production server after a short period of testing. A benchmark that was performed on the workload after applying all recommendations revealed 53% total improvement in query duration, 63% in CPU resource consumption, and 50% in logical reads (disk IO and memory resources). The duration of two most resource-consuming queries in the workload, which had previously extracted a severe performance penalty on the production system, dropped from 26 minutes to 1.5 minutes, and from 10 minutes to 10 seconds, respectively.
Total Resource Usage Improvement: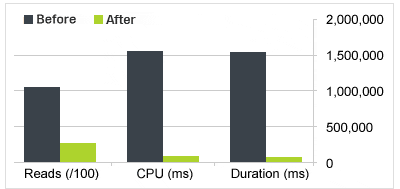 Top Query Performance Improvement: