Query IO reads decreased from 159,000 to 100 at Clalit Health Services
Clalit Health Services is one of the largest health care organizations in the world. The selected database is responsible for the processing of all hospital laboratory results and is used by both hospital staff and doctor's clinics. The database is around 50 GB and serves approx. 700 concurrent users. The database was previously optimized using APM tools and Microsoft tuning wizards. Clalit Health Services is challenged by millions of transactions each day, which requires continuous tuning by DBA and system programmers. The company's chief architect officer, Mr. Rabia Mansour has emphasized that performance issues are the most critical challenge they face. Huge resources are being spent on performance issues in human resources, software and hardware. In the last two years, several million dollars were invested in efforts to keep performance levels up to standard.
Even so, the systems occasionally experience severe performance issues that sometimes result in system downtimes. The main performance issue causes are physical and logical IO (IO bottlenecks). These issues cause slow response times and timeouts and sometimes even transaction rollbacks. Qure analyzed a backup of the production server and recommended dozens of changes. Implementing these recommendations yielded a performance improvement of 60% in IO resource consumption and 65% improvement in CPU usage. Unfortunately, the benchmark environment had concurrent activity during the benchmark so duration metrics were not measurable. From previous experience, roughly the same percentage of improvement would be expected.
For more information, please contact Mr. Rabia Mansour: rabehma(at)clalit(dot)org(dot)il
Total Resource Usage Improvement: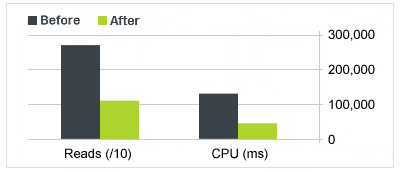 Top Query Performance Improvement: